Upcoming Events
Beethoven's Ninth January 1 and 2
Our sixth annual New Year's Day performance of Beethoven's Ninth will be held on Friday, January 1, 2016 at 3PM at the Elley-Long Music Center in Colchester, with a repeat performance on Saturday, January 2, 2016 at 7:30PM at the Spruce Peak Performing Arts Center in Stowe. Daniel Bruce returns as conductor, along with vocal soloists Allison Devery, Linda Radtke, Cameron Steinmetz, and Erik Kroncke. Matthew LaRocca, director of the South Burlington Community Chorus, will serve as Chorus master.
More information and registration for participating orchestra musicians and choristers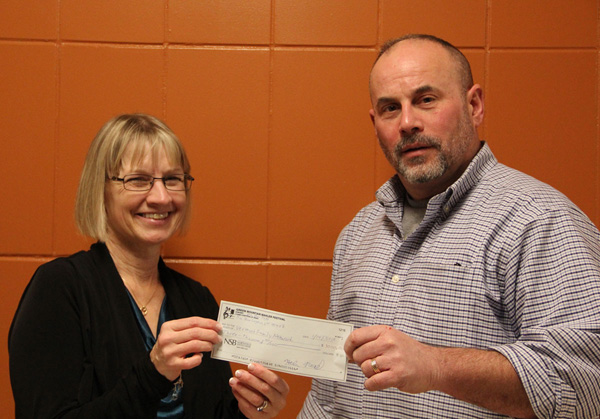 January 14, 2015. Green Mountain Mahler Festival President Dan Weiss presents a check for $3000 to Pam McCarthy of the Vermont Family Network after our 5th Annual New Year's Day benefit performance of Beethoven's Ninth.

Video courtesy of LCATV
About GMMF
The Green Mountain Mahler Festival, founded in 2002, is dedicated to providing an opportunity for local area musicians to experience and enjoy the works of Gustav Mahler and other great Romantic composers, and to bring this music to the public.
The GMMF is a non-profit 501(c)(3) organization. Contributions are gratefully accepted.